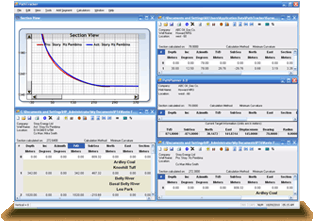 PathTracker

PathTracker is the user friendly directional calculation and well planning package that was originally from Onscreen Software Solutions Ltd. © PathTracker had been used for 15 plus years in directional and horizontal drilling.

Features

Full Windows Compatibility

Windows Based state of the art application for XP, VISTA, Windows 7 (32 & 64 bit)

Dynamic Graphing

Can be zoomed in and out much the same way you would navigate an online map. Compare your plan and your actual well files on the fly.

Secondary Display

Graphs and PathProximity can be viewed on one monitor or 2 monitors simultaneously, you can make 'What If' projections and see the updates and determine the impact.

More Software

A two dimensional well planning program that assists you with the development of a directional plan for simple build and hold wells or complex horizontal wells.

The anti-collision program that works with PathTracker files to produce three dimensional scans of the proximity of one well (or well plan) to another.
483, 918 – 16 Avenue NW Calgary, Alberta Canada T2M 0K3

Contact Info:

Toll Free: 888 - 604 - 0077 (Canada/US only)
Phone: 403-261 - 6662
Fax: 1-866-847-5564
E-mail: customer.service@pathtracker.com